ABOUT US
Welcome to Mount View High School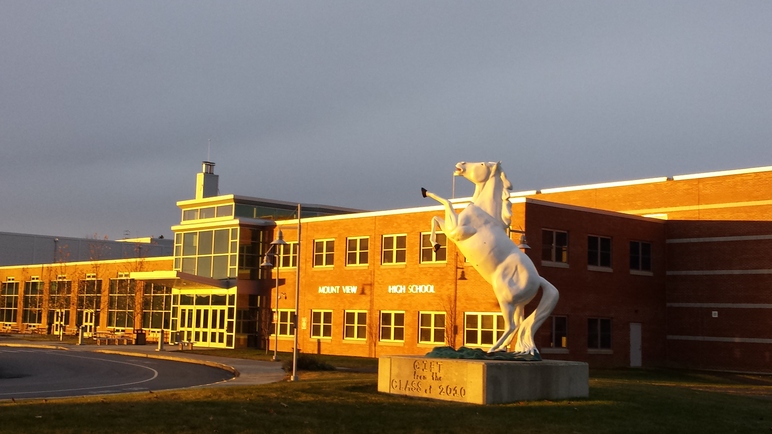 RSU 3 VISION STATEMENT:
Every RSU 3 learner is prepared to be academically, socially, and emotionally successful in learning and life. RSU 3 is invested in what our learners know, what they are able to do, and what kind of citizens they are becoming.
EXPECTATIONS FOR OUR LEARNERS
Students are engaged, self-directed, future-focused, lifelong learners. Students are accountable to the expectations of a rigorous and dynamic curriculum based on clear learning targets. Every RSU 3 student is met at his/her developmental learning level, is challenged, and is empowered to reach personal success. Our students are supported by caring adults and peers within a safe learning environment.
THE LEARNING EXPERIENCE
Students utilize choice in how they learn and demonstrate excitement and understanding to gain ownership and investment in their own learning. Working at their individual maximum pace, students reach their full potential. Every RSU 3 student learns in different ways and time frames. In order to meet their diverse needs instruction is customized to reflect learning styles and interests. Our proficiency-based system makes clear what students must demonstrate to show mastery. Learning targets are clear, easily accessible and diversely assessed.
OUR SCHOOL/OUR COMMUNITY
Students view the community as an extension of our schools; a place where they engage in a wide variety of opportunities to apply their learning. There is reciprocal involvement between schools and the community. RSU 3 is a direct reflection of our community. Every RSU 3 student is an informed, a responsible and engaged citizen of the local and global community.
CORE VALUES
Mount View High School community, students and staff exhibit respect, kindness, responsibility and perseverance.
CORE BELIEFS
We believe following our core values encourages
a positive safe environment

students being career, college and life ready

classrooms that connect students to their learning

a strong work ethic

honesty and integrity
VISION OF THE GRADUATE
Our graduates will be proficient in the Maine Guiding Principles:
Clear and Effective Communicator

Self-Directed and Lifelong Learner

Creative and Practical Problem Solver

Responsible and Involved Citizen

Integrative and Informed Thinker